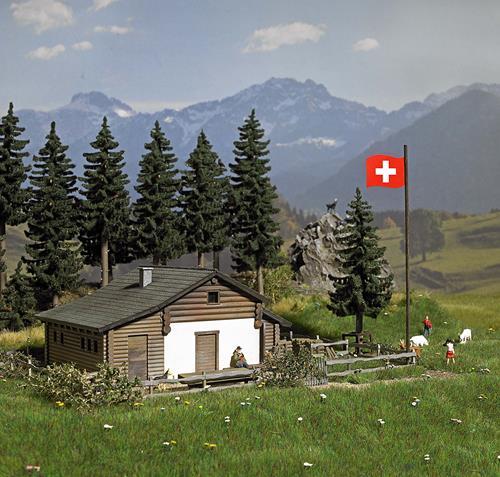 Busch 1443 Alpine hut
---
---
Kit for a larger alpine hut with attached goat stable after the original model on the Heidialp (www.heididorf.ch). Blockboard construction in plastic. Wood paneling on the back, doors and windows made of real wood. All parts are already finished colored. Universally usable as a rural building.

Size: 135 x 86 mm. Height: 59 mm.


Welcome to Heidi's village!
Who does not know her, the little Heidi from the Swiss mountains above the town of Maienfeld near Chur? Up here is the original location of the world famous Heidi story by Johanna Spyri. In Heididorf, visitors of all ages can take an emotional journey back in time to the 19th century. Because here almost everything is preserved as it was then, when Johanna Spyri was inspired by this place to her heart warming novel: original Heidi house, Geißenstall, village well and village shop. A trail leads to the Heidialp, where the hut stands of Heidi's beloved grandfather, the Alpöhi. And behind the hut, the fir trees still roar in a mountain world, as Heidi loved them over a hundred years ago. Further information about the Heidi Village at www.heididorf.ch.

Heidihäuser
This idyllic alpine scenery is perfect for the model railway layout or for a diorama. The large range of bushes offers all imaginable products and building materials to showcase mountains, forests, pastures & Co. Realistically. In the center of this mountain world are now the two famous Heidihäuser, the bush offers exclusively as kits (1442 Heidihaus and 1443 Heidialp). Modeled on their famous models down to the smallest detail, the buildings are easy to build and form the appropriate backdrop for alpine architecture.
---
Gauge:
HO (1:87), OO (1:76)
The item has been added to your basket