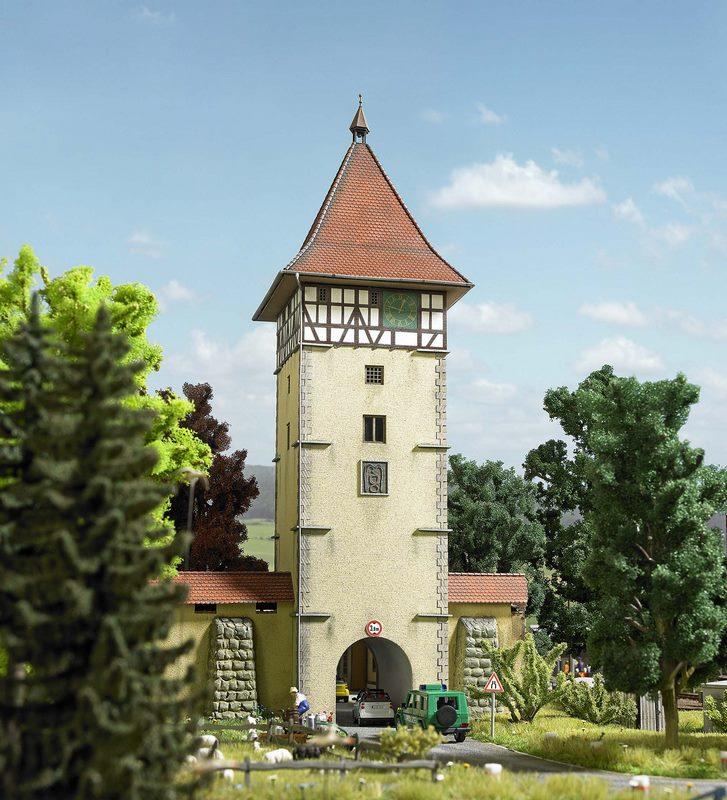 Busch 1596 Gate tower
---
---
Replica of the gate tower of Beinstein (Waiblingen) in the Rems-Murr-Kreis. As in the original ground floor and three floors are provided with a plaster wall, the top floor is designed as a timber-framed structure. Clock printed, no function. With blazon on the front and back of the tower. Detailed bell tower on the spire. Transit with semicircular arc. All parts finished colored. Kit. 

Size: 102 x 102 mm, 345 mm high. 
Passage width gate: 38 mm, passage height: 45 mm. 

Worth knowing about the role model
The Beinstein gate tower from the thirteenth century is the only preserved city gate of the medieval city Waiblingen. At the beginning of the nineteenth century, he narrowly escaped demolition. He used to be called the "acid tower" because the pigs were once driven into the pasture through his gate. In the last century, he served as city and parish Prison. Today he houses the Museum of Csávolyer, the German-born population from southern Hungary, for the Waiblingen sponsorship.
---
Gauge:
HO (1:87), OO (1:76)
The item has been added to your basket